British alternative rock and blues group Kill It Kid have inked a new worldwide recording deal with Sire Records, the Warner Music Group imprint run by maverick A&R legend Seymour Stein.
Having parted company with previous label (One Little Indian Records) after two critically acclaimed albums (the self titled debut 'Kill It Kid' and its follow up 'Feet Fall Heavy') the band crossed paths with Seymour Stein at a French show and bonded over a love of early rhythm & blues.
As well as being the man responsible for signing The Ramones, The Smiths and Madonna amongst a host of other greats, Seymour Stein was recently awarded the Billboard Icon Award for his services to music (read the interviews here & here).
Madonna once said of Stein that "he is more interested in music than getting platinum records, everytime he signs he is taking a chance. And there aren't many people in the entertainment industry who do that anymore."
Kill It Kid are the only British band currently on the Sire label. Work on the first single from the new album is underway with Producer Mike Crossey (Arctic Monkeys, Black Keys, Blood Red Shoes) and we hope to have release and tour dates confirmed shortly.
Frontman Chris Turpin explains: "Kill It Kid are honoured to become part of the Sire/Stein story. We are proud to join a roster with a legacy synonomous with the development and growth of great British bands and have been moved by the sincerity and honesty that Warner Music and Sire have displayed. To have a respected music industry legend offer such personal support and belief in our creativity is a little overwhelming. We are excited and determined to leave our mark over the coming years. This moment will be something that we, as musicians, will cherish forever."
Both Kill It Kid and the Management would, at this point, like to say a huge thank you to everyone who has lent their support and given their advice, in particular Derek Birkett and the One Little Indian team.
Kill It Kid's next London show is XOYO, London on Nov 6th.
Video: Pray On Me (Live)
Seymour Stein (Image:- www.billboard.biz)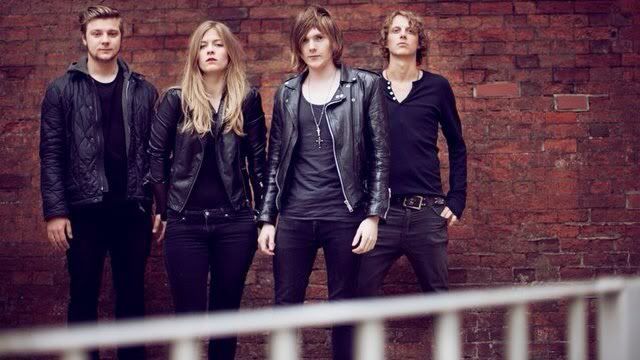 Kill It Kid (Image:- www.tombarnesphoto.com)